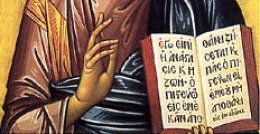 Welcome!
Holy Ghost Orthodox Church is a multi-ethnic, English-speaking Orthodox parish in rural Westmoreland County, Pennsylvania. We are located approximately halfway between Delmont and Saltsburg, off of State Route 819 (five miles north of US Route 22 East of Murrysville). Under the Omophorion of

His

Grace, Bishop Daniel,

Ruling Hierarch of the Western Eparchy of the Ukrainian Orthodox Church of the USA. Holy Ghost has been serving Our Lord since its founding by Galician Immigrants in 1923.

Although Holy Ghost is a small parish by today's standards, the people of our parish pride themselves on their hospitality and love towards our visitors.

Please plan to stay after Divine Liturgy for our Coffee Hour Social Time.



Please feel free to contact Father Robert Popichak if you have any questions or are interested in learning about the Orthodox Church. Father Bob has served at Holy Ghost since January of 1998.

All Services are in

English

. Holy Day Services are announced in the weekly bulletin (see below).

---
Announcements:
We humbly ask for your prayers as the Great and Holy Synod of Orthodox Bishops convenes on the island of Crete this week.

Oh Heavenly Father, send down Thy Holy Spirit upon our hierarchs and leaders—open their eyes and ears to Thy Will, that all may be One, as Thou art ONE—Father, Son, and Holy Spirit!
We will resume holding an Obednitza with Communion downstairs in the church hall the last Sunday of each month in order to help our parishioners who are unable to navigate the steep parish steps. The next service will be June 26th!
---
Please remember all those on our parish Prayer List in your prayers, especially Father John Harvey, John Sheliga, Pastor Ed Bowen, Father Paul Bigelow, Liz Obradovich, Jean Stuchel, Mary Ann Kuznik, and Pani-Matka Sonia Diakiw.
May our Lord Himself be a source of recovery and comfort to them.
There is now a "clearing house" for Orthodox events in the Greater Pittsburgh region:
www.pittsburghorthodox.com
is up and running with lots of new information--check it out!
A VERY SPECIAL THANK YOU to Alexander Popichak, who revised and modified this web page to be both beautiful and Much More Functional than my rudimentary one. Thanks Alex, and God Bless you for your work for His Church!


Please continue to pray for the guests and staff of the Eastern Orthodox Foundation!

---
Please remember in your prayers His Eminence, Metropolitan Paul and His Eminence Mar Gregorios, who were kidnapped in April. Media coverage continues to be minimal to non-existant!

"Metropolitan Paul Yazigi of the Greek Orthodox Archdiocese of Aleppo (brother of His Beatitude Patriarch John X of the Great City-of-God Antioch and all the East), and Mar Gregorios Yohanna Ibrahim of the Syriac Orthodox Archdiocese of Aleppo, were both abducted this morning, Monday, April 22nd, while they were traveling together on the road between Antioch (Antakya, Turkey) and the north Syrian city of Aleppo. The driver of the vehicle in which they were traveling was killed in the attack. Your prayers are requested."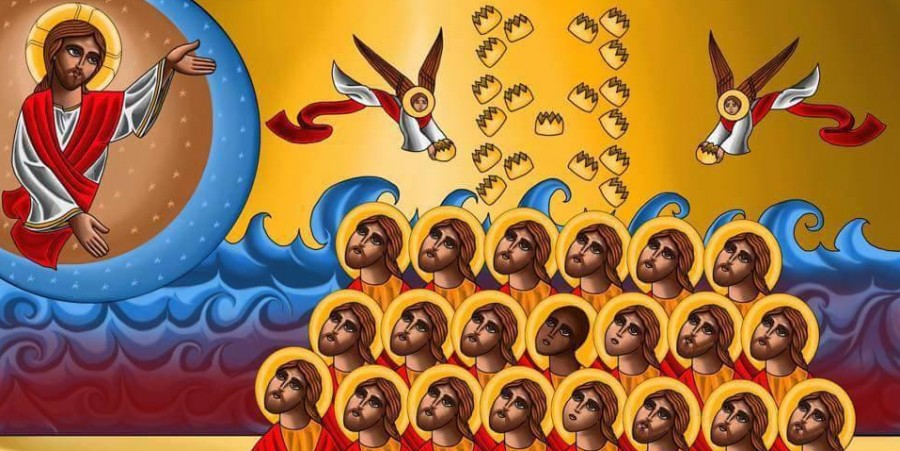 Icon of the 21 New Coptic Martyrs of Libya

A very special THANK YOU to Darlene D. for her very kind donation to our church. May God reward her a thousand-fold for her generosity. God Bless you!
Weekly Bulletin
---
26 June 2016

1st SUNDAY AFTER PENTECOST; SUNDAY OF ALL SAINTS; MARTYR AQUILINA OF BYBLOS IN LEBANON; SAINT TRIPHYLLIUS-BISHOP OF LAUCOSIA [NICOSIA] IN CYPRUS; MARTYR ANTONINA OF NICAEA; VENERABLE ANNA & SON SAINT JOHN
Tone 8
Hebrews 11:33-12:2
Matthew 10:32-33, 37-38, 19:27-30

MONDAY, JUNE 27--SAINTS PETER AND PAUL FAST BEGINS

Please Note:
Holy Ghost follows the "Old" or Julian Calendar for fixed feasts--meaning that we celebrate
the Nativity of our Lord and Savior Jesus Christ on 07 January on the Gregorian or "civil" calendar.
---
To read this week's bulletin in Adobe Reader© Format Click

Here

.
---